Video - Behind the NDSR
This video provides an overview and background on the NDSR program.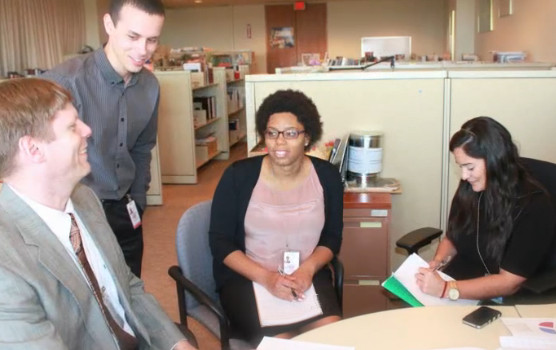 Behind the NDSR
Running Time: 00:03:00

The Residency
For Potential Residents
As an NDSR Resident, you will work on a digital stewardship project, or series of projects, in one of many Washington, D.C. institutions. Your project(s) will allow you to acquire hands-on knowledge and skills involving the collection, selection, management, long‐term preservation, and accessibility of digital assets.
The NDSR program will help you gain digital stewardship expertise by providing opportunities to:
Work with individuals and institutions leading major digital stewardship efforts.
Strengthen your professional network in the field of digital stewardship.
Work with a cohort of fellow residents, who share professional interests.
Get an overview of innovative approaches and tools for the preservation and management of digital assets.
Complete a significant project that can enhance your professional portfolio.
The Residency
The NDSR program will allow recent graduates of master's and doctoral programs in relevant fields to complete a residency at various institutions in the Washington, D.C. area. Doctoral candidates will also be considered. Application information is now available on the website. Resident candidates may apply to the program from December 17, 2014 - February 6, 2015. Students accepted to the residency program will complete an intensive digital stewardship immersion workshop at the Library of Congress. Residents will then transfer to selected host institutions to work on digital stewardship projects that complement their learning objectives. Residents will receive a bi-weekly stipend to cover living expenses.
Throughout this educational experience, residents will attend a series of invited guest lectures, present and discuss their work regularly, and actively participate in the collaborative educational community established by the residency program. Residents will also have the opportunity to present their project work to a national audience at a professional conference.
Immersion Workshop
During the program residents will participate in an intensive digital stewardship immersion workshop at the Library of Congress. The workshop will provide Residents with the opportunity to learn and become more familiar with the various components of digital stewardship and will complement their project work.