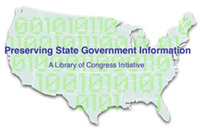 This initiative focused on capturing, preserving, and providing access to a rich variety of state and local government digital information.
Four lead projects have worked with 35 states to collect and preserve publications, geospatial data, legislative records, executive agency documents, and other information of long-term value.
Each project developed and shared tools, services and practices to help all states make progress in managing their digital heritage.
Project partners included state archives, libraries, historical societies, and other organizations with an abiding interest in the ongoing stewardship of government digital information.
Partners
The lead entities and the focus areas of the initial four projects:
Arizona State Library, Archives and Public Records, "Persistent Digital Archives and Library System." Arizona lead this project to establish a low-cost, highly automated information network that reaches across multiple states. Results included techniques for taking in large quantities of state data as well as developing a strong data-management infrastructure. Content included digital publications, agency records and court records. States working in this project are Arizona, Florida, New York, South Carolina and Wisconsin.
Minnesota Historical Society, "A Model Technological and Social Architecture for the Preservation of State Government Digital Information." The project worked with legislatures in several states to explore enhanced access to legislative digital records. This involved implementing a trustworthy information management system and testing the capacity of different states to adopt the system for their own use. Content included bills, committee reports, floor proceedings and other legislative materials. States working in this project are Minnesota, California, Kansas, Tennessee, Mississippi, Illinois and Vermont.
North Carolina Center for Geographic Information and Analysis, "Geospatial Multistate Archive and Preservation Project (GeoMAPP)." The GeoMAPP effort addressed the preservation of at-risk and temporally significant digital geospatial content. This data was at risk of being overwritten when updates were made, with the superseded data lost for future use and analysis. The project modeled an organized network engaged in the transfer and replication of geospatial data content within and between states, exploring different methodologies and tools for the preservation of geospatial data. This included recommendations on archival processes to ingest and manage the snapshots of geospatial data. States working in this project are North Carolina, Kentucky and Utah.
Washington State Archives, "Multi-state Preservation Consortium." The Washington State Archives used its advanced digital archives framework to implement a centralized regional repository for state and local digital information. Outcomes included the establishment of a cost-effective interstate technological archiving system, as well as efforts to capture and make available increased amounts of at-risk digital information. Content includes vital records, land ownership and use documentation, court records and Web-based state and local government reports. States working in this project are Washington, Colorado, Oregon, Alaska, Idaho, Montana, California and Louisiana.
Highlights