March 12, 2010 -- Portico, a not-for-profit digital archiving service for the publishing and library communities, has launched a new website, www.portico.org (external link).
The site provides extensive information about Portico holdings, which include e-journals, e-books, and digital collections. Listings of the publishers and libraries that currently use Portico services are available. 
Clear details are provided about the Portico operational model, including use of preservation agreements with publishers, reliance on publication source files, and use of a "dark" archive that becomes "light" though a trigger event. Such an event would be cessation of publisher services, either through normal business operations or though catastrophic and sustained failure.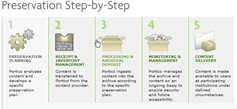 A highlight of the site is Preservation Step-by-Step (external link). This feature combines text and images in providing a lucid overview of the five stages that preserved content moves though under the Portico approach.
Portico is a Library of Congress National Digital Information Infrastructure and Preservation Program partner.