Preserving Your Personal Digital Memories
May 5, 2011 -- Many people want to keep their digital photographs, videos and other files as long-term personal and family memories.  This is a fairly new challenge, as until recently most personal documentation was in a hard copy or other analog format.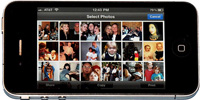 To address this need, the National Digital Information Infrastructure and Preservation Program partnered with the Association for Library Collections and Technical Services to present a webinar, Preserving Your Personal Digital Memories (external link). 
NDIIPP staff member Bill LeFurgy drew from the program's personal digital archiving guidance in providing practical tips for identifying, selecting, organizing and storing personal digital collections.  Over 500 organizations and individuals participated in the webinar, which was held as part of national Preservation Week.
Slides and video from the webinar are available here.