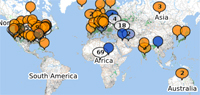 December 13, 2010 -- The National Digital Information Infrastructure and Preservation Program website has a new section to provide a high level view of the collections that partners are preserving worldwide.
Users of "Explore Partner Collections" will see a map plotting the origins of born digital content held by NDIIPP partners around the world.
This section (viewed best in the Firefox browser) lets users dynamically explore collections by subject, content type and availability. Users have a variety of ways to have search results presented, and can get information about any individual collection, as well as the organization responsible for it. In many cases, there is a direct link to the content itself.
The ability to connect directly from one portal to content at partner institutions is made possible by Recollection. This is a free open source software tool, now in beta testing, developed to help digital collections stewards create dynamic interfaces.
All interested in participating in beta testing Recollection should contact [email protected] to get started with a free web account.