August 17, 2010 -- The Library of Congress and its partners had a strong presence at the ESRI International User Conference (external link), held from July 12-16, 2010 in San Diego, CA. ESRI is one of the world's largest software development and services companies providing geographic information system software and management applications.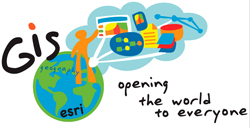 The Library is exploring ways to preserve digital geospatial information and has funded a series of projects to examine the issue, including the Geospatial Multistate Archive and Preservation Partnership (GeoMAPP).
One priority for GeoMAPP is to engage with private sector entities in the geospatial technology industry on the challenge of enabling digital geospatial content preservation, retention, discovery and long-term and permanent access for information with archival value. The ESRI conference provided an excellent opportunity to make these connections.
The outreach efforts began prior to the conference with the publication of an article, Library of Congress Takes Leadership (external link), in the Summer 2010 issue of ESRI's news magazine ArcNews. According to ESRI, ArcNews has a worldwide readership of 800,000. The article revisited GeoMAPP's prior industry engagement efforts while also directing attention to the Geospatial Data Preservation clearinghouse being developed by the Library with support from the Center for International Earth Science Information Network (CIESIN) (external link) at Columbia University in New York.
Further opportunities for connection happened during the conference. GeoMAPP's presentation, Mapped Today; Zapped Tomorrow? Preserving Government Digital Geospatial Data (external link), was part of the GIS Data Maintenance and Management session and they also helped host the Geospatial Data Management Special Interest Group Meeting.
Additionally, Butch Lazorchak, the Library liaison to the GeoMAPP project, was one of 15 participants selected to give a 5-minute "lightning talk" in plenary session. A video of his talk, The Benefits of Preserving Digital Geospatial Data (external link), is available for viewing.