March 12, 2010 -- Representatives from the Geospatial Multistate Archive and Preservation Partnership reached out to federal geospatial information users with a presentation during the ESRI Federal User Conference (external link)in Washington, DC in February.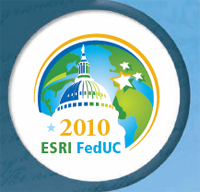 GeoMAPP representatives from the North Carolina Center for Geographic Information and Analysis and the North Carolina State Archives discussed lessons learned from the project and provided a primer on archives concepts for the geospatial audience. A Library of Congress staff member spoke about how results from the project will have value for state and local governments across the country.
Pat Cummens, ESRI's Government Strategist and the session's moderator, noted that "more of our GIS community needs to be aware of the criticality of data preservation and needs to be thinking about how to save and manage their data for future use and analysis."
GeoMAPP is bringing together geospatial and archival staff in multiple states to identify, preserve, and make available temporal and superseded digital geospatial data with ongoing value. Funded by the National Digital Information Infrastructure and Preservation Program, GeoMAPP is working with 13 states in addition to North Carolina: Georgia, Maine, Maryland, Minnesota, Montana, New York, Texas, Wisconsin, and Wyoming.