March 1, 2010 -- Leslie Johnston is joining the National Digital Information Infrastructure and Preservation Program as Manager of Technical Architecture Initiatives. She will work with NDIIPP partners and Library of Congress staff to coordinate technical strategy for distributed digital preservation and access initiatives.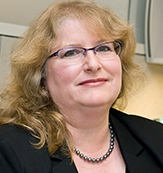 Johnston has over twenty years experience in managing digitization programs, setting and applying metadata and content standards and developing digital content management and delivery systems. She has worked since 2008 with the Library's Repository Development Team where she managed a variety of projects associated with digital content life cycle management.
Previously, she served as the Head of Digital Access Services at the University of Virginia Library, Head of Instructional Technology and Library Information Systems at the Harvard Design School, the Academic Technology Specialist for Art for the Stanford University Libraries and as Database Specialist for the Getty Research Institute. Johnston has also been active in the museum community, working for various museums, teaching courses on museum systems and serving on the board of the Museum Computer Network (external link).
"I am so excited to have this chance to work more closely with our NDIIPP partners," said Johnston.  "They are doing groundbreaking work to implement the tools, services and practices needed for enduring access to digital information.  I want to keep this work going while also looking for new opportunities for the Library to support digital stewardship."