[an error occurred while processing this directive]
Digital Preservation Outreach & Education
10/19/2016
More Digital Preservation Training in the Deep South
By Elizabeth Kelly, Loyola University New Orleans, and Cheylon Woods, University of Louisiana Lafayette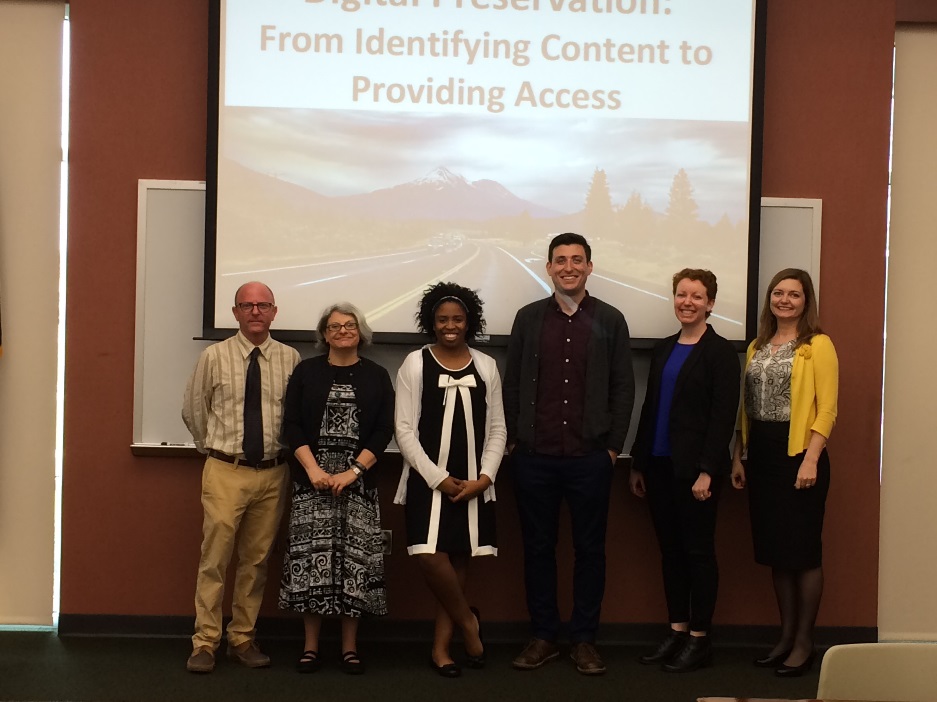 Participants from the inaugural Digital Preservation Outreach and Education (DPOE) Train–the–Trainer in the Deep South recently delivered digital preservation training to library practitioners in the state of Louisiana. Charlene Bonnette (State Library of Louisiana), Gina Costello (Louisiana State University), Elizabeth Kelly (Loyola University New Orleans), Jeff Rubin (Tulane University), Zach Tompkins (Louisiana State Archives), and Cheylon Woods (University of Louisiana Lafayette) presented all six modules of the DPOE curriculum in a three-hour pre-conference workshop, "Digital Preservation: From Identifying Content to Providing Access," at the 2017 Louisiana Library Association Conference organized by the The Louisiana Library Association.
The workshop was held at the Lafayette Public Library - South Regional Branch on Tuesday, March 7. The Louisiana Library Association Subject Specialists Section sponsored the program, and refreshments were provided by the Friends of the Louisiana State Archives and the University of Louisiana Lafayette.

The conference theme was "Shaping the Future," and presenters tailored the DPOE modules for library professionals from a variety of backgrounds and institutions. Through lecture, discussion, and hands-on activity, presenters led participants through developing a plan for preserving digital assets—whether born-digital archival materials, institutional records, or personal digital resources. Thirty-four participants primarily from public libraries, and some academic libraries, attended the training.

The purpose of the workshop was to reach out to information professionals throughout the state of Louisiana and encourage them to take steps towards digitization by demonstrating the benefit and simplicity of the process. Many of the participants were on the cusp of digitization, and most were overwhelmed by the concept. All of the presenters took time to reassure participants that digitization is a natural advancement in the preservation process, and many steps towards digitization are already incorporated in preservation best practices. In addition to providing participants with resources, this workshop also provided participants with a network of fellow information professionals embarking on similar projects. These kinds of connections can serve as a support system as participants begin digitizing, or advocating for digitization policies, within their institutions.

All the conference presenters were previously trained in the DPOE curriculum. DPOE workshop graduates are designated as Digital Preservation Topical Trainers, and are expected to develop training events of their own—hence the train-the-trainer model. By delivering training in digital preservation planning, the "Digital Preservation: From Identifying Content to Providing Access" presenters hope to improve the ability of Louisiana institutions to preserve their digitized and born-digital content. Kelly, Rubin, and Woods will reprise the workshop on May 24 in Fayetteville, Arkansas for a Society of Southwest Archivists Annual Meeting pre-conference session titled "Digital Preservation Planning Workshop".